Decoding Memento:
A Chance to test your understanding of Narrative Theory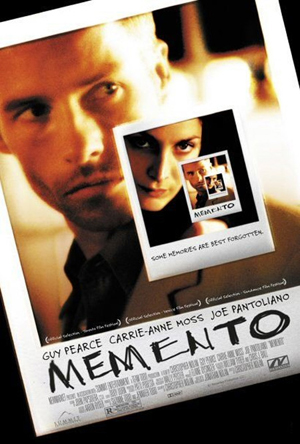 Long before he was bending audience brains to the tune of $800M's worth of box office receipts with Inception, Christopher Nolan was known for his ability to construct extremely complex non-linear narratives. The 2002 sleeper hit, Memento, based on his brother Jonathan's short story Memento Mori, has earned a special slot in the history of developments in film narrative. There was a brief fad during the early 2000s for movies that told their story in an overly non-linear manner (See also: Irréversible, Peppermint Candy and - in part - Eternal Sunshine of the Spotless Mind) but Memento endures as the most successful example of cinematic reverse chronology.
At first glance, Memento is a straightforward stroll through film noir territory. The essential plot is a murder mystery. The audience follows the protagonist, solitary insurance investigator Leonard Shelby (Guy Pearce), from motel to diner to car lot, questioning other characters as he attempts to discover the identity of the man who raped and murdered his wife.
So far, so noir.
Except that Shelby has total short term memory loss and can only remember who is is or what he is doing for a few minutes at a time. The narrative abruptly stops and restarts, as Leonard fades in and out of screen consciousness. This is confusing enough for him, but even more so for the audience, who are plunged into the chaos of Shelby's world with a narrative that unspools backwards (apart from a sub-plot involving a telephone conversation between Shelby and an unseen other which runs forwards - but that's in black and white). We begin at the end, with Shelby's character seemingly achieving his goal, and then unravel his tortuous route to that point.
Huh?
It's a difficult film to watch, certainly. You have to pay attention. And you also have to decode the narrative codes furiously, just to keep up.
So, it's a useful exercise to take notes as you go along. Just like Shelby, in fact, although tattooing them on your body might be going a bit far in your dedication to the subject. You will need to take notes under these headings in order to answer the question below. For each segment, try to jot down the following:
The question/answer part of that segment (action/enigma codes)
The Memento - the significant object (eg photograph, gun) which carries us through
Who the characters are and the Proppian functions they perform (eg Donor) - note how this changes
What is the conflict central to each segment - is it resolved? Who is the conflict between and how are they represented?
Significant other things - costume, setting, cars - what other things do you use to infer meaning?
Your task:
How do audiences decode the narrative of Memento?
Suggested organisation of your answer
Introduction
What is the decoding process? How do audiences engage in it consciously/unconsciously? Why does the narrative of Memento present problems?
Main body paragraphs
In the order that you think is appropriate, you should write a paragraph on each of the following
Memento and Todorov - how do the film-makers play with the audience's expectation of the equilibrium, disequilibrium, new equilibrium pattern?
Memento & Barthes - how do action and enigma codes work within the segments - that whole question answer pattern? How do they help drive the narrative on?
Memento & Propp - What are our expectations of character? How doe characters' functions change when seen in reverse? What is going on with Natalie?!?!
Memento & Levi-Strauss - What binary oppositions are present in the film, and how do they help our understanding of it? How does the audience's grasp of right/wrong change? (Clue: make strong connections between this paragraph and the one on Propp)
Memento and Symbolic Codes - Each sequence has a memento - a significant object whcih provides a link forward and back. How do these objects help us understand the narrative ie how can they be said to help construct it?
Conclusion:
How DO audiences decode the narrative of "Memento"? It seems so complicated... and yet, by the end it all makes sense. Why is this?
Further Reading - Memento Links
You may also find these other pages on Mediaknowall useful: